The Best Ways to Support ICHS
Become a member! use the form on this page to join ICHS.
---
"God gave us memory so that we might have roses in December."
― J.M.Barrie
People ask us "why would I donate my money to the historical society?"
It is an easier proposition to convince someone to donate money to a food shelf, or a homeless program, than it is to make an argument for a donation of money that supports the preservation of historical documents, photos and artifacts. Yet, these pieces of our history really do hold our memories together as a group of people with a connection to Isanti County. Beyond this connection, history is an amazing resource for all of us, the young and the old, but most especially, as we grow older. An artifact you can hold in your hand,a letter from years past, or a photo of a family member can often be our "rose in December", and can both comfort and activate our feeling of well being and connection to our sense of place and home.
Thank you for considering a donation to the Isanti County Historical Society.
Membership Registration Form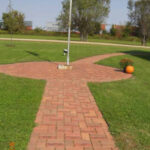 Help us raise the American flag, & build a walkway and commemorative garden at the Historical Society.
Please join us! We'd like to sell 100 pavers and complete the garden and walkway for a future dedication ceremony.
Pavers to 'Preserve the Past'
Here is your opportunity to "leave your mark on history" in a brick paver at the Isanti County Historical Society. Whether it is your name, or that of a family ancestor, these brick pavers will be displayed at the Heritage Center for all to see.
What better way to commemorate a birth, memoriam, marriage, anniversary, or other milestone in someone's life. Show business support with your logo, or other business milestone.
"Preserve the Past" fundraiser profits will support the programs of the historical society, and future generations will view your brick paver as an investment in Isanti County History.
Order a Paver
Employee Matching Programs
Does your employer match your giving? Some companies donate for the time you give as well.
---
Companies that have Corporate Matching Programs
3M
Abbot Employee Giving Campaign
Allina
American Express
Ameriprise
AMEX
AON
AT&T Bank of America
Boston Scientific
Bristol-Myers Squibb
Centerpoint Energy
Excel Energy
First Data
GE Foundation
Give with Liberty Global Impact
Hasbro
John Hancock
KPMG
Medtronic
Merick Partnership for Giving
Merrill Lynch
Microsoft
Piper Jaffray
Razoo
RBC Dain
Target
Thrivent
Truist
UPS
United Health Group's Dollars for Doers
US Bankcorp Foundation
Verizon Foundation
Wells Fargo